"The Goal of art was the vital expression of self".
Some find it in the melody of flute. Some in the brush they hold and some pour it out in the home they live in. As for the latter, their home becomes their canvas; their sanctuary, their refuge. And I am this kind of a person. Let's establish that right at the onset.
The second is the fact that my love for everything home equals to no other but tea.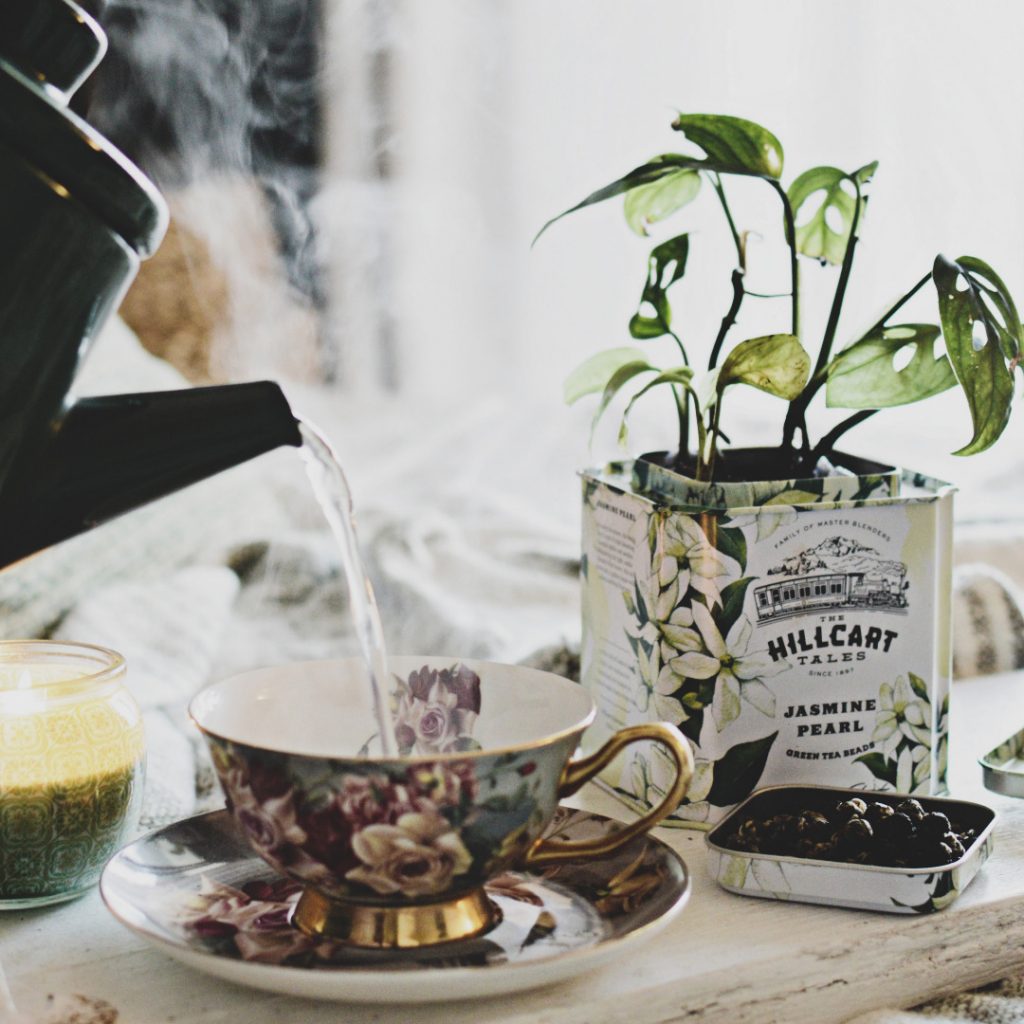 Having grown up in the northern plains of West Bengal and in the foothills of Darjeeling – with three years staying right off Hill Cart Road where the most fragrant tea of the world grows – I have a relationship with tea like no other. It's not just a beverage for me. Something that lets me sleep or keeps me awake. It's not a fashion statement for me either holding a cup just for the gram. To me, tea is a thousand things more, and a friend. For good times and bad. And I often find my answers, joy, healing and calm in a cup of good tea.
Now tell me, what happens when the two great loves of your life meet? A Jasmine Green Tea Inspired Corner.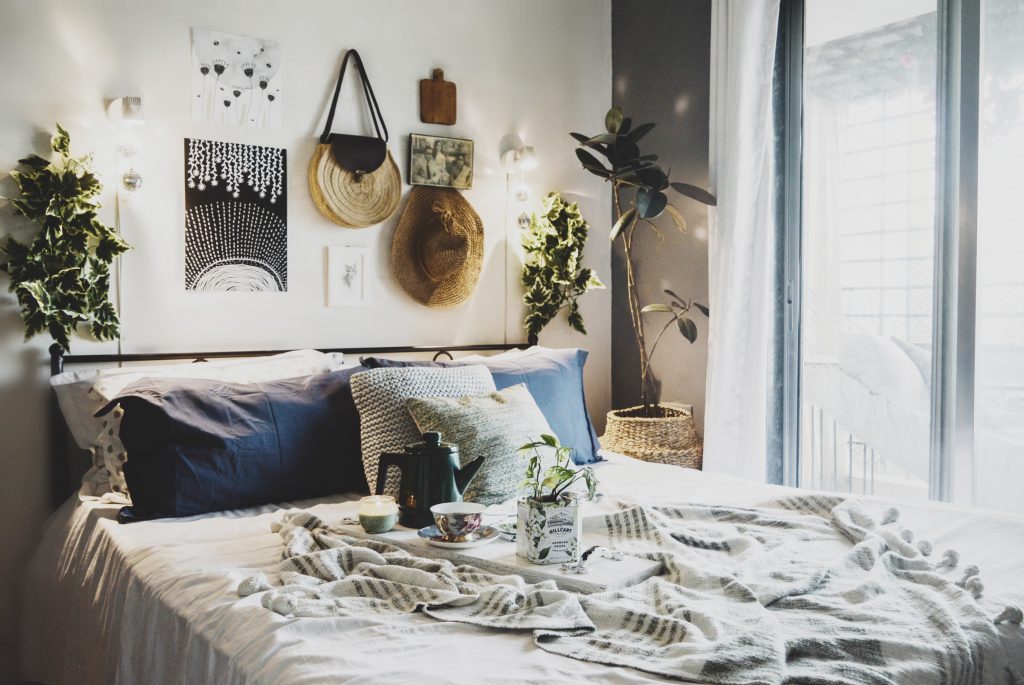 Inspired by one of my favourite teas from the Hillcart Tales – Jasmine Pearl, here's a corner that makes me feel just as brilliant as a freshly brewed cup of tea. I have tried to capture the nuances of this beautifully fragrant and sublime tea in my coastal, natural decor style and also show you how to reuse the beautiful tin once your tea is over. Consider this as my ode to tea.
The signature qualities of Jasmine Pearl Tea
To be able to recreate the feeling, however, one must understand the tea first. Jasmine tea finds its roots back to the Ming Dynasty, where only Royalty had access to it but this is not a day for history. This is a day to soak your soul in a perfectly balanced tea that is almost zen-like. Sweet, unperfumed but fragrant and with that fine balance between floral blossoms and delicate tea leaves- this tea is equal parts soothing, uplifting and relaxing. And my decor had to reflect that.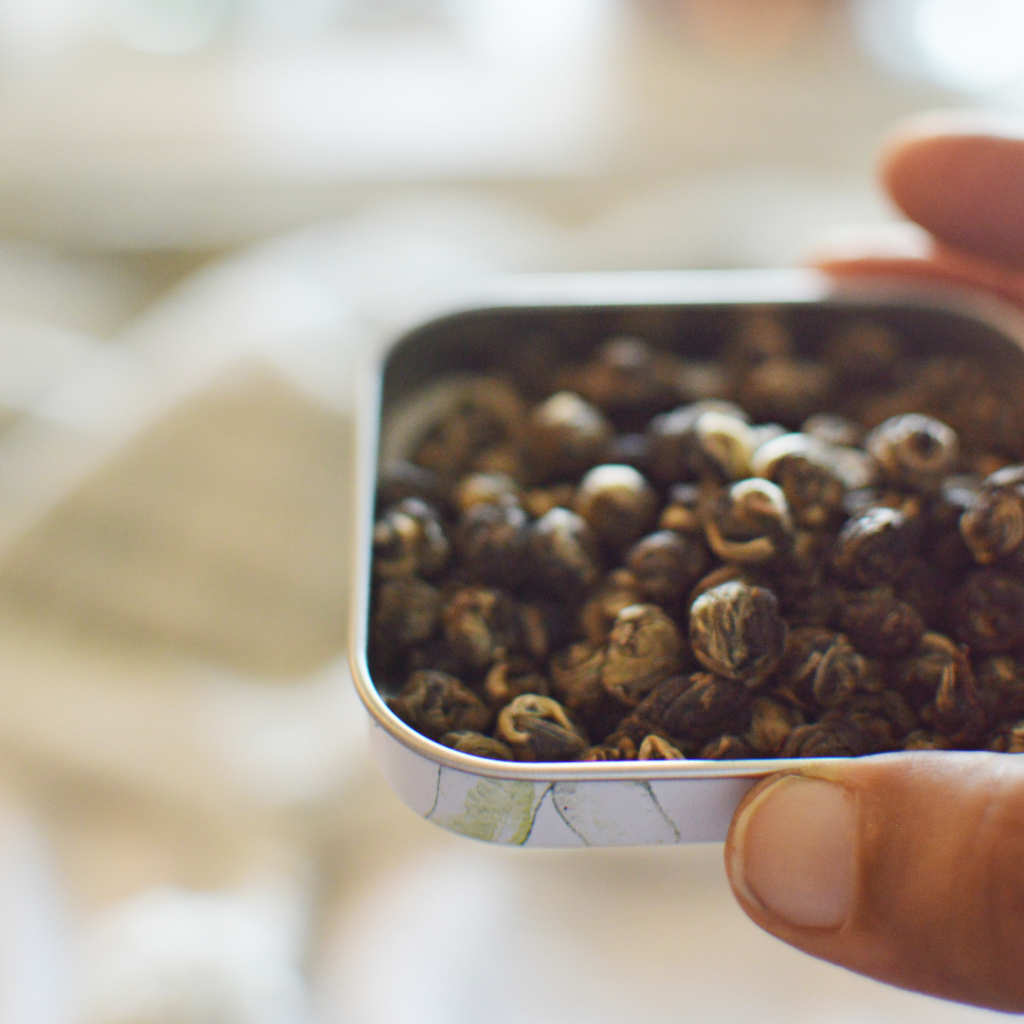 Navy, Green and Natural
Inspired by the flavours of the tea and the tea tin, I got in a little dose of Navy in the room, flanked by lots of green, white and natural sea grass. Why did I choose the colours I chose?
Taking cue from relaxed: Navy is the colour of royalty. It is also a colour that brings in a beautiful relaxed and cozy vibe to your room.
Taking cue from uplifting: Green brings in the much needed freshness to your room which is very rejuvenating and uplifting.
Sea Grass: There is something extremely rooted and organic about a pot of green tea which I think can be only represented by natural materials. I chose Sea Grass because well, a beach house enthusiast!
White: My spirit colour and a perfect base colour to build your story- just like the tea tin the tea comes from.
The result is at your disposal.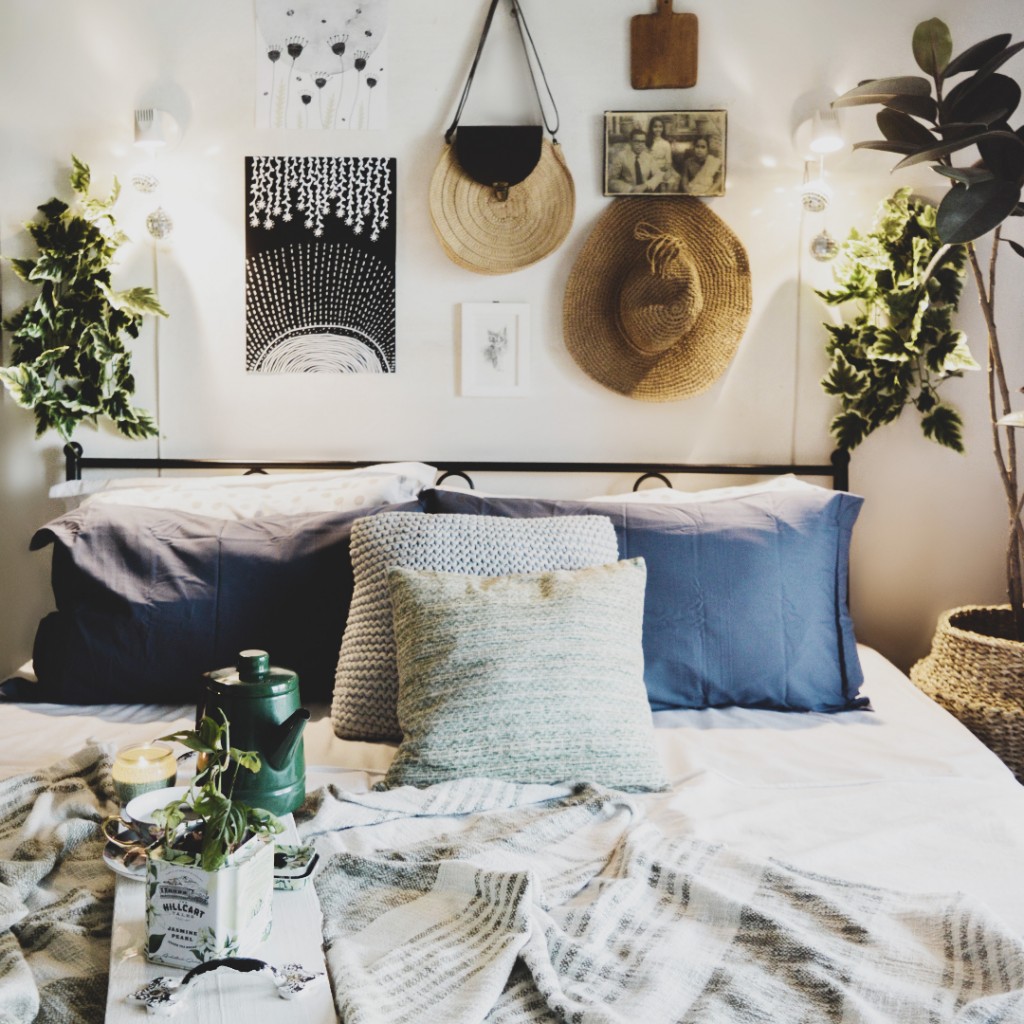 I have also turned the tea tin to a planter, inspired by the genteels of Hill Cart road who painstakingly tend to their plants in plastic.
A Hill Cart Road Home Inspired Planter DIY
If you ever travel to Darjeeling via Hill Cart Road, and which you mostly will, you'll see plastic reused as planters. There isn't a house that doesn't have flowers in its balcony. These plastic planters are actually quite easy to make and makes for a perfect vessel to grow plants. Taking a cue from that, here's our little planter- I went a step ahead and added it in a beautiful tin.
What will you need
A tea tin, aziploc bag, scissors, potting soil, and a plant of your choice. Choose a plant that doesn't require too much watering or aeration.
How to make tea tin planter
First, add ziploc bag to your tea tin and add soil.
Next, add the plant to the height you want, fill it with soil to the top
Water scantily with a sprayer
Next, cut off the extra plastic from top (make sure to keep an extra inch of two) and tuck the plastic towards the inside of the tin. This will also allow you to take it out when required.
Voila! You are ready to show off!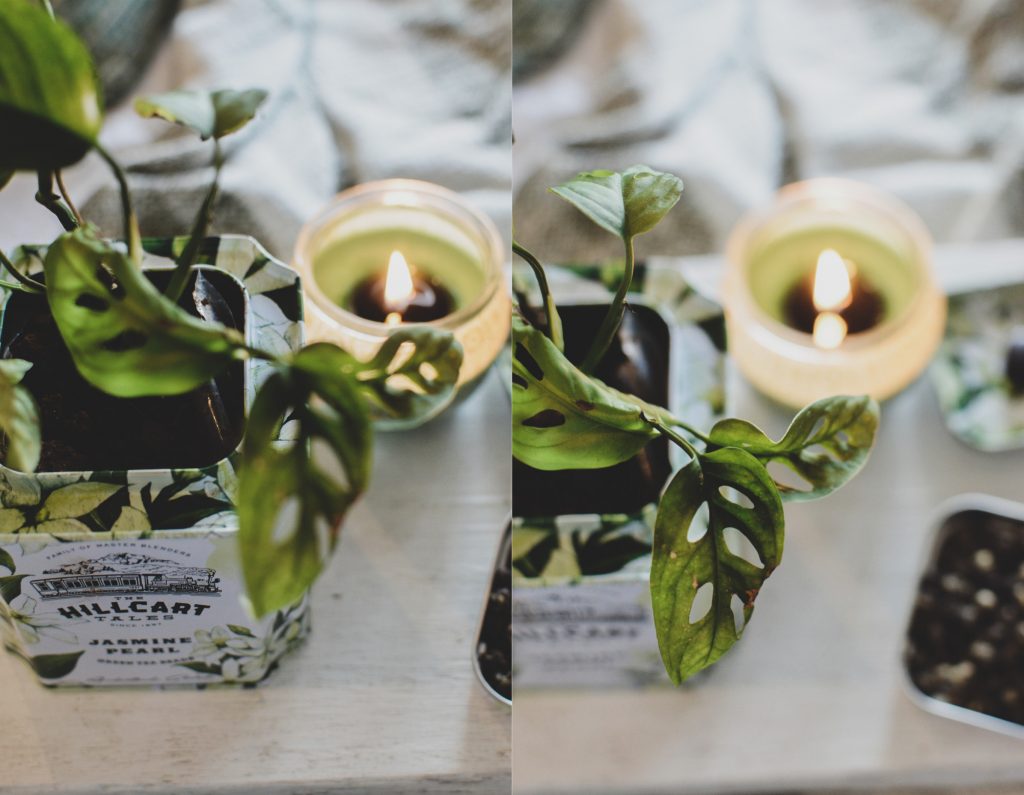 By the way, I almost always buy tea in a tin because it's the planter I want. Thankfully with the Hillcart tales, the tin and the contents are both enviable.
Rukmini is the founder, editor & Stylist of Trumatter– a blog that weaves design and decor ideas inspired by the comfort and informality that sea side living provides.