A welcome relief after the fierce Indian summers, the monsoons bring with them a beautiful combination of petrichor and nostalgia. The cool temperatures — we have not been able to fathom why — dial up our cravings for fried savouries. From pakoras and samosas in the north to bonda and paniyaram in the south, and of course, the piping hot cups of tea, it's the season of guiltless indulgence.
Continuing this gastronomic adventure in monsoons could weaken our immunity, especially while travelling. Which is why we have curated four special tea blends suitable for every palate along with their healthy alternative snacks to give you, your ideal monsoon experience.
Spiced Tea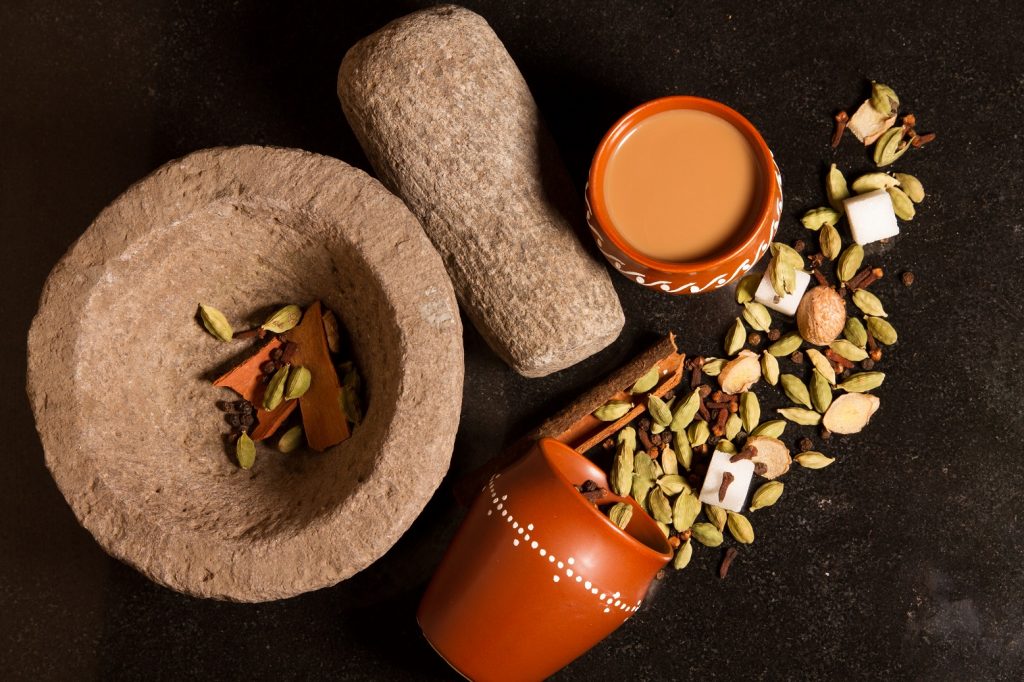 Come monsoon and masala chai is found on every stove top. Steeped in the complexity of hand-ground cloves, cardamom, cinnamon, the warming spices come with unique flavours and properties that stimulate appetite and provide relief from season flus. The aromatic black spiced tea is an all-time companion during the monsoon blues.
When to drink: Spiced tea can be sipped along with breakfast or as an evening tea, whether you're serving guests over a casual house soirée or by yourself while reading a book.
How to brew: Place the muslin teabag of Spice Carnival, a well-crafted blend of exotic spices and black tea, into a cup. Boil water up to 100ºC and then pour it over the teabag. Cover and let it steep for two to five minutes, depending on your preferred tea strength. Add milk and sugar and delve into the fragrant aromas.
What to serve: Indian spiced tea pairs best with spicy foods. Try non-oily and healthy snacks like corn bhel, minced meat puffs, whole wheat pretzels or crackers and whole wheat pita bread with a hummus spread.
Mint Tea
Mint tea is another monsoon marvel. Packed with antioxidants and anti-inflammatory agents that relieve seasonal allergies, the menthol in the mint leaves relieves itchy throat and acts as a breath freshener. Mint also eases digestion, making it the perfect supplement to your monsoon snack sessions.
When to drink: Mint tea is light and refreshing. It is best consumed after a meal for a soothing effect. Fix yourself a cup of mint tea on a day packed with important client meetings and stressful submission deadlines.
How to brew: Take a see-through glass teacup, place a muslin teabag of  Mint Tea and steep in hot water at 90°C (194°F) for about three-five minutes, depending on your preferred tea strength. Serve it without milk or sugar, you may add a little honey too as per your preference. Enjoy it hot.
What to serve: This minty brew is best enjoyed with savoury accompaniments like lentil fritters, roasted fox nuts and trail mix and sweets like almond cookies, shortbreads, sticky cakes.
Tulsi Tea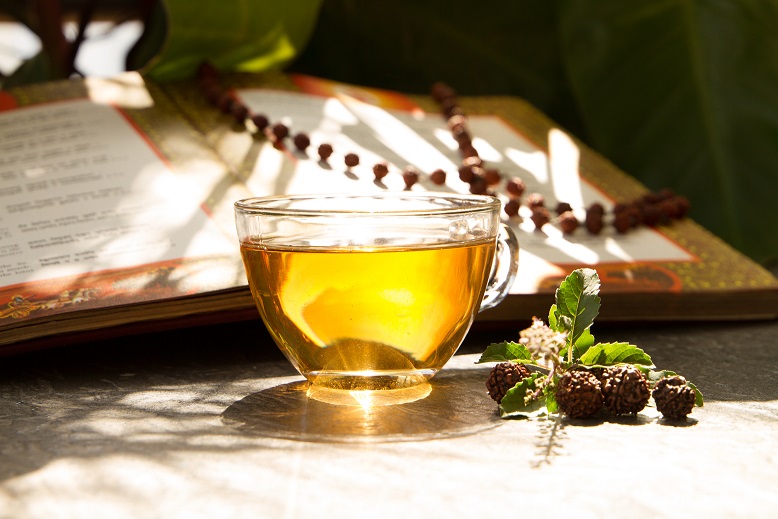 Holy basil leaves, famously known as Tulsi is called the 'Queen of herbs' in Ayurveda due to its healing benefits. It helps in relieving headaches, colds and fevers and can also calm a restless mind. The perfect blend to begin your Sunday morning if you ask us.
Holy basil is usually added in the traditional home-brewed chai but a better combination is to try it with green tea.
When to drink: One of our personal favourites, Indian Holy Basil tea can be enjoyed both in the morning and afternoon.
How to brew: Add a muslin tea bag of the Indian Holy basil to a teacup and add water at 90°C (194°F). Steep the bag for about three-five minutes, depending on your preferred tea strength and savour it hot without milk or sugar.
What to serve: Avoid fried or sweet snacks with this herb-infused tea, however, if you must, crackers and roasted peanuts go well with this blend.
Honey Lemon Tea
Aches. Sniffles. Cold pulling you down? Making yourself a steaming cup of Honey Limón tea will work wonders for your health. That is because honey and lemon act as body cleansers and remove toxins from the body.
When to drink: Honey Limón tea can be sipped any time of the day, but post-meals is a better time. We suggest you sip this tea on a relaxed evening especially when it is pouring heavily.
How to brew: Steep a muslin tea bag of Honey Lemon tea, a sweet tea made of green tea blended with natural raw honey and infused with lemon, in 90°C water for three-five minutes depending on your preferred tea strength. Enjoy the soothing and aromatic concoction while it's hot.
What to serve: The citrus-flavoured green tea can be enjoyed with sandwiches, croissants, wholewheat bread and paninis.
A Cup of Tea Can Solve Anything
Whether you like a day indoors, sipping a hot cup and watching the windows frost over a rain-drenched cityscape, or feel adventurous and get soaked during your commute, the ideal rainy day should always end with the perfect cup of tea in your hands.
Fortunately for our customers, it doesn't even have to be that difficult, as all these curated teas are available in our meticulously packed tea bags, ready to brew at the drop of a hat, or a raindrop in this case! Happy Monsoons!